Twitter Tuesday: Latest on Romeo, Akinjo, Calloo, OK State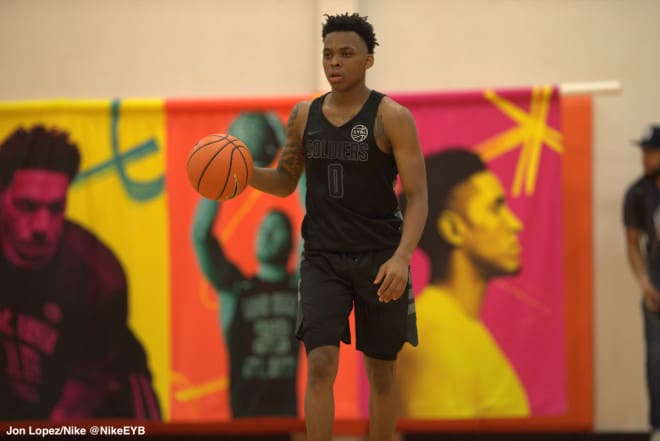 James Akinjo just finished his first official visit following his release from UConn, one that took him to Georgetown. The Hoyas were the first to see the four-star guard following his decommitment and while a commitment did not occur this weekend, it looks as if they are in a great spot. However, many others remain in the hunt.
This weekend, Tennessee will host Akinjo for an official visit. The Vols had invested much time and attention with Anfernee Simons this winter before he decided to hire an agent and jump directly to the NBA ranks. They quickly reasserted their attention with Akinjo as they have the chance to sell immediate playing time and the idea that he is the final piece missing for what could be a potential Final Four run next season. The Vols return seven of their top eight scorers from last year, one that brought them their first league title since 1979.
While Tennessee and Georgetown remain in a good spot, others on the West Coast should not be discounted. California, San Diego State, Gonzaga, Colorado, Oregon State and a slew of others remain involved.

However, keep a close eye on Arizona, as the Wildcats have an immediate need at the point guard spot, have scholarships to fill and the Rivals150 prospect has the chance to compete for a point guard-savvy head coach in Sean Miller. Arizona will host Akinjo on an official visit on the weekend of April 19, a source tells Rivals.
Five-star power forward EJ Montgomery chose Kentucky on Monday, selecting the Wildcats over Vanderbilt, North Carolina and a handful of others. However, his decision in no way impacts what Romeo Langford, the top available senior this spring, ultimately does.
Langford, down to a final three for the past few months, has remained focused on Indiana, Vanderbilt and Kansas. The Commodores were thought to be a favorite since February, but recent whispers have begun to surround the Jayhawks and Hoosiers.
Kansas picked up some momentum after its entire backcourt entered the NBA Draft, though LaGerald Vick did not hire an agent.

Archie Miller has invested the most amount of time and attention in Langford since being named the head coach in Bloomington and the value of the top in-state prospect attending Indiana cannot be understated from the optics angles.
Vanderbilt remains heavily in the mix, but this decision is not a done deal to any degree as there is still some deliberating occurring within the Langford household.
Oklahoma State surpasses many of its preseason expectations by placing itself on the NCAA Tournament bubble as it swept Kansas, a first in the Bill Self era in Lawrence, and defeated Florida State, WVU and Oklahoma. How the Cowboys respond next year heavily depends on what they do this spring.
All eyes remain on the point guard position as they graduate Kendall Smith, and Brandon Averette, the lone point guard expected to return, decided to transfer two weeks ago. The Cowboys hosted top-50 guard Courtney Ramey in December and while he has pushed his college commitment into the spring, OK State remains strong in its pursuit. In its way are Texas, Missouri, South Carolina, Illinois and a slew of others.
Coach Mike Boynton has remained patient but he has also been proactive, kicking a few other tires on the high school and transfer markets. Amir Harris is one of the top available high school prospects. A one-time commit to Rhode Island in the fall, Harris has not scheduled any official visits just yet but if Oklahoma State feels like its chances are waning with Ramey, look for a potential move to be made on Harris.
Tre Campbell, a grad-transfer prospect from Georgetown, is one of the better immediate guards available this spring. While his time on the Hilltop didn't go as planned, he still is someone that brings three years of experience in the Big East. Oklahoma State is in the mix, along with UConn, Boise State, Grand Canyon and Wyoming.
Oklahoma State is not short for perimeter assets next year with the returns of Thomas Dziagwa, Lindy Waters and Michael Weathers. The Cowboys will also enroll Curt Jones after the fall semester, a combo guard that can help with some ball-handling duties. If it can land a point guard this spring, whether it is Ramey, Harris or Campbell, Oklahoma State could again be in the running for a tournament bid next season.

Like always, come the spring months, programs are attempting to fill out their rosters with prospects that may have fallen to the wayside during the spring and summer months but emerged in the winter as worthy recruits. Maurice Calloo has always had the tools and playing for the nationally ranked Oak Hill Academy program, there has been no shortage of eye balls on him, though his recruitment is just beginning to take off.
This past weekend, a source told Rivals that he was on an unofficial visit to Michigan State. The Spartans have a hole to fill in the frontcourt with Miles Bridges and Jaren Jackson off to the NBA, and possibly another due to the pending return of Nick Ward, who recently tossed his name into the draft, though he didn't hire an agent. Calloo is more of a face-up power forward as he sports quality tangibles that could make him a solid college producer around the basket.
Next weekend, Illinois will host Calloo for an official visit. This is the only trip scheduled for the time being as the Illini, if they so deem fit, could press the Canadian senior during his visit and could leave the Champaign campus a committed man.
If not, look for a number of others to pursue as the spring signing period nears. Outside of Illinois and Michigan State, St. John's and Ole Miss remain in the hunt. The Rebels are working on an official visit date on the weekend of April 20, as the Red Storm have solidified a date for the weekend of April 27.