Cornell grad transfer Stone Gettings picks Arizona
Power forward Stone Gettings has decided to pick Arizona over Stanford, and he will head to Tucson after finishing up his degree this winter at Cornell.
The 6-foot-9 forward is not going to play this season despite his planned arrival to UA for the spring semester. Rather he will workout and practice with the team this spring but delay his final season of action until 2019-20.
Gettings was not a high major type of player out of Loyola High School in Los Angeles, but he has worked himself into being that now after continued development at Cornell. He has increased his production through his first three seasons at the Ivy League school with his junior season averages coming in at 16.7 points and 6.6 rebounds.
A former teammate of Parker Jackson-Cartwright, Gettings previously mentioned that his decision to transfer and where he would end up was almost all going to be influenced by basketball. Stanford made a push, but UA ended up proving that it was the right place to accomplish his goals on the basketball court.
"I value education, but I am focusing more on where I fit in best in basketball," he previously said. "I already have a great degree, so there is less pressure on me academically. ... I want to go to a place where I can make an impact. I only have one year to do it right."
He has certainly made big strides since that time when he was working alongside Jackson-Cartwright at Loyola High School, and now he will be an important piece of the front court at UA a couple seasons from now.
"I want to have an impact wherever I go, and help that team make a run in the NCAA Tournament," he said. "I was not highly ranked out of high school. I was a late bloomer. I put in a lot of hard work, and was able to do well at Cornell."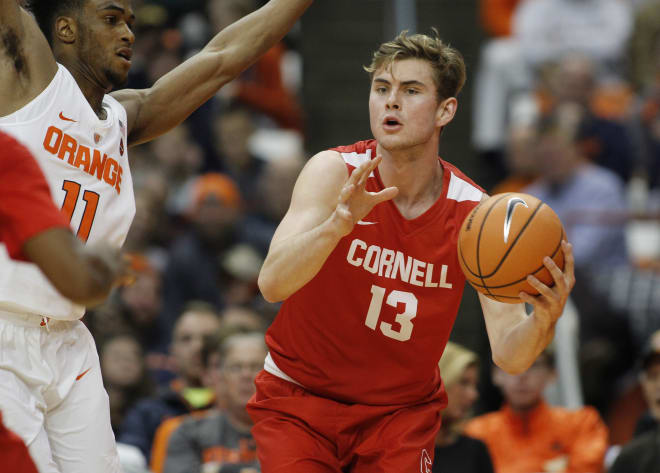 Arizona is thin in the front court this season with Chase Jeter being the lone center and just two options, sophomore Ira Lee and Pittsburgh graduate transfer Ryan Luther, at the power forward spot. So, adding another body for the future at power forward is a plus for the Wildcats and takes some pressure off landing one in the 2019 class.
"The Ivy League is kind of weird," he said about how he fits on the floor. "They don't have posts in the traditional sense. They have stretch fives. I am a traditional four. I am more than a pick and pop four. I'm good at getting others shots. I can handle the ball, and shoot the three. I have a good mid post and low post game. I can pick and pop, and pick and roll. I bring lots of versatility."
Sean Miller has left open the possibility of adding another player to take up the open scholarship Arizona had available heading into the season. It was not something the Wildcats felt they had to use unless the right scenario came along. UA pursued Fresno State transfer Bryson Williams, but Gettings always seemed like an ideal fit.
"We have one more scholarship and we could fill it, we might not," Miller said in the spring. "There's a couple players we have our eye on who have already mentioned that they're going to transfer it's just a matter of if that will be here or not. I don't think we have anybody that we're recruiting that would be eligible this year in the first semester."
Now UA has its completed roster for the upcoming season with Gettings being an intriguing piece for the 2019-20 season when he becomes eligible.