With NAU the dessert, here comes UNLV as the main course maybe, sort of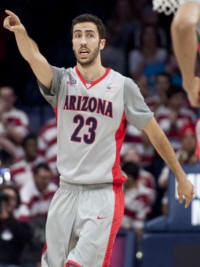 And now on to the main event of the non-conference of the regular season for Arizona.
It would have had more luster had UNLV not gotten beat by Arizona State on Wednesday night, but such is life in college basketball.
Arizona did its part about the same time the Rebels were collapsing in Vegas. UA won going away, beating Northern Arizona 92-37 in what was Sean Miller's biggest win (by margin) as an Arizona coach.
"We really put it together," Miller said.
It mostly happened in the second half when Arizona outscored the Lumberjacks 52-13. By then, fans were were wondering when Saturday's game would be played. It's 7:30 p.m. by the way.
But it took a halftime wake up call from Miller to his players to get the second half party started. Miller got on them "really hard," Kadeem Allen said.
"I did it because … you just start hunting shots," said Miller, who told the TV reporter at halftime it looked more like a 'me" team than a 'we' team. "It doesn't look right and the first thing that goes is the defense. You can kind of see it and you can feel it.
"No team, especially this season, is good enough to overcome that type of mentality."
"We can't take a half off or take a play off or a game off," Miller said. "We're not good enough to do that, very few teams are. We have to stand for something. For us, the thing we can always control is our togetherness and effort defensively. We know how to do it. It's up to us to go out and do it."
The players said it was all about "team ball" in the second half.
"Everyone was playing together and we were out there having fun," said Allen, who had seven points, seven assists and four steals.
It was Mark Tollefsen who had the most impressive numbers, finishing with 19 points and eight rebounds. It's the second consecutive game he's had an Arizona career-high in points. Tollefsen said he's feeling more comfortable with every game. It's all about trust in each other.
"I was just trying to my job the best I could," Tollefsen said. "It's crashing the offensive glass and finding the open man and keep getting rebounds and putbacks for us. I'm trying to help these guys what they do as well."
Now, it will supposedly have to happen more on Saturday. If the non-conference season didn't offer enough star power - or scheduling help with UA having an RPI of 45 (entering Wednesday's game) - it could help with a win over UNLV, although the hype of the game took a hit.
Miller called UNLV "one of the more talented teams we will play" so how UA responds will be key. It does have some help in as much as UNLV proved it was capable in beating UA last year.
"It's going to be a good challenge for us," Tollefsen said.
Allen went one further having been witness to the debacle while redshirting.
"It was a feeling that hurt everyone on the inside," Allen said. "It also made us bounce back. We still have people on the team from last year. We don't want to feel that pain. We know what it feels like - it's revenge."
Steve Rivera has covered the Arizona men's basketball team full-time since the 1991 season, filling in since 1988. He's the author of the Arizona Basketball Vault and "100 Things Arizona Fans Need to Know & Do Before They Die."