Wildcats open fall camp with smooth first day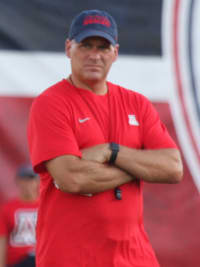 [rl]
His players went to work and looked like it had prepared for this day for months. Of course some didn't (but more later).
In fact, Solomon said the first day went "smooth" and "everyone did what they were supposed to do" with exceptions like some of the freshmen "running like headless chickens."
But the first day was A-OK in finding a rhythm teams usually take a few days to find.
On Tuesday, it was business as usual, a luxury Rodriguez & Co., have with so many players returning. And although not all are cagey veterans they know enough to act like they've been here before. It's work, do your job and get ready for the next day.
One step prompts the next one and so on. Rodriguez did admit to tweaking a few things, but it was much like the past.
"Not so much that guys are back but there were a couple of things we wanted to have some emphasis on early and have a different structure to our practice," Rodriguez said of the tweaks. "The veterans know how the flow goes, but you could see some of the newcomers about halfway through practice needing a different adjustment."
It's not always easy. Even the veterans get hiccups once in awhile, Rodriguez said.
"It's still different when you practice and you can be in great shape (but) our practices will wear you out," Rodriguez said. "There are some veterans walking gingerly right now."
It's about being smart and healthy with a 12-games-in-12-weeks schedule. It won't be easy.
"If our guys work like I think they will work they will get more time off than is scheduled," Rodriguez said.
For now, it's all about work. And more work for some others. Those who came back out of shape will have to join Rodriguez for his notorious Breakfast Club, adding in a get-in-shape workout at 7 a.m.
"I got quite a few guys in the Breakfast Club, but I'm looking for some company anyway," he joked. "It gets lonely on the Stairmaster. I'll have a handful of guys with me. But it's not too bad."
Kind of like how the first day went … not too bad. In fact, it was pretty good.