Why Arizona is Point Guard U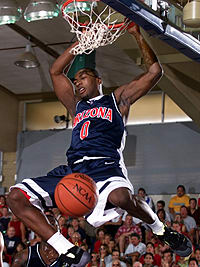 Arizona
Basketball has long been known as Point Guard U. Simply put, the Wildcats produce more nationally known point guards than anyone.
The list dates back over two decades from the likes of Steve Kerr, Damon Stoudamire, Jason Terry, Mike Bibby, Jerryd Bayless and countless stars to come. If you are a top point guard recruit, the University of Arizona is where you want to be.
It is no secret that guard play is the key to a successful run in the NCAA tournament and Arizona's four Final Fours and one national championship can easily be explained by its point guard play. In all four of those years Arizona had an All-American point guard leading the squad en route to championship weekend.
Kerr in 1988, Stoudamire in 1994, Bibby in 1997 and Jason Gardner in 2001.
But more than just Final Four banners, what makes Arizona special for point guards is the long-standing tradition that each point guard carries with him. Every time he sets foot in McKale Center he knows he has three of the greatest Wildcats memories hung above him.
Out of the four retired jerseys in Arizona history, three (Kerr, Bibby, Gardner) belong to those who played the one-guard.
When Arizona fans fill into McKale starting each fall, they expect to see the best point guard in the nation leading their team, and often times that's exactly what they have watched since 1988.
If you still need more convincing of how deep the point guard tradition in Tucson is, let the alumni speak for themselves.
Steve Kerr:
Kerr came into Tucson unheralded and largely unknown but left as a centerpiece of the revitalization of Wildcat basketball. He finished his career as an All-American in 1988, the same year he led his team to a Final Four and was rewarded as a draft pick of the Phoenix Suns.
He eventually landed in Chicago where he was a member of four NBA championship teams and he added a fifth title with the San Antonio Spurs, which is more rings than Shaquille O'Neal can lay claim to.
Today, Kerr is the General Manager of the Suns after his stint as an NBA analyst for TNT and is a member of the exclusive retired jerseys club in McKale Center.
Total NBA Earnings: $16.1 million
Damon Stoudamire:
Stoudamire collected All-American honors in '94 while leading UA to its second Final Four. However, Stoudamire did one better by returning the following year and added a second year of All-American accolades.
He was named Pac-10 Co-Player of the Year in 1994-95.
He averaged just under 23 points in 1995 to lead the team in scoring and was another Arizona point guard to be a lottery pick later that year. The Toronto Raptors selected Stoudamire with the 7th overall pick and the Portland native played 14 years in the NBA and he earned the Rookie of the Year award in his first season.
In 2003-04 Stoudamire was the sixth highest paid player in the NBA, earning over $14.3 million dollars as a member of the Portland Trailblazers and another $12.2 million the following year.
Total NBA Earnings: $98.7 million
Mike Bibby:
The Phoenix native stuck close to home and his decision would soon make him a millionaire and basketball legend as the current Atlanta Hawk was named the Pac-10 Freshman of the Year in 1997.
Bibby would lead Arizona to its lone national title in 1997 by defeating three number one seeds in March and would be named to the All-Final Four team. The following year he was a consensus first-team All-American and the Pac-10 Player of the Year.
Bibby's jersey number, 10, has been immortalized in the rafters of McKale Center as it was retired on November 11, 2004.
Bibby's success in school quickly translated to a great professional career as he was drafted 2nd overall by the Vancouver Grizzlies in 1998. In his first season Bibby was named the NBA Rookie of the Year and is still considered one of the best point guards in the league.
In 2002 he signed a seven-year contract worth $80.5 million dollars. This season he rakes in a tad under $15 million dollars a year, which puts him in the Top 20 of the highest paid players in the league.
Total NBA Earnings: $79.4 million
Jason Terry:
Terry was also a member of Arizona's national championship team, playing 33 minutes in UA's defeat of
Kentucky
for the title. After 1997 he became a team leader and an All-American in 1999 as well as the Sports Illustrated and CBS/Chevrolet Player of the Year that same season.
Terry finished his Wildcat career as one of the most beloved UA players ever, as he was known for wearing his knee-high white socks with 'Cats' written down the side. NBA scouts also fell for the Seattle native as Atlanta drafted him 10th overall in 1999 and he was named to the All-Rookie second team in his first season.
Terry recently received an award for the NBA's Sixth Man of the Year as he is with the Dallas Mavericks and is currently in a six-year deal worth $57 million dollars that expires in 2012.
Total NBA Earnings: $44.8 million
Jason Gardner:
Despite not being drafted by the NBA, Gardner is one of the most successful point guards in Arizona history and is still the school's third all-time leading scorer. Gardner was a four-time All-American between 2000 and 2003 and his success led to the retirement of his jersey.
In 2001, the former Mr. Indiana led UA to the national title game and the school's fourth Final Four appearance. During his senior season Gardner garnered the coveted Pomeroy Naismith Award after he was named the 2000 National Freshman of the Year.
Gardner collected 12 All-American honors in four years and is only of one of four players in Pac-10 history to score 1500 points, dish out 500 assists, and collect over 200 steals.
He finished his career with a .787 winning percentage and found success playing overseas in countries such as Slovenia, Belgium and Israel and is currently playing in Germany.
Jerryd Bayless:
Bayless only played one season in Tucson but was honored as an All-American in 2008. Bayless undeniably was the team leader as a freshman and made every big play when necessary.
The Phoenix native led the team in scoring with just under 20 points a game in his lone season before being drafted 11th overall by the Indiana Pacers. Bayless currently plays with the Portland Trail Blazers where his four-year deal is worth just under $10 million dollars.
--
In addition, Arizona had a number of off-guards that were multi-versatile and played both guard spots and no list of UA backcourt greats would be complete without them.
Khalid Reeves:
Reeves led Arizona's second Final Four squad in 1994, and was also rewarded by being named an All-American that same year. The Queens (N.Y.) native led the team in scoring that season by averaging over 24 points a game.
Reeves impressed NBA scouts and was chosen 12th in the '94 NBA Draft by the Miami Heat. He played seven seasons at the game's highest level.
Total NBA Earnings: $9 million
Miles Simon:
"Simon says championship" was heard nationwide when the Wildcats won their first basketball national title in 1997 as the image of Simon hugging the game ball will forever be ingrained in the minds of basketball fans. Simon received the honor of the Most Outstanding Player at that Final Four and followed it up with an All-American campaign in 1998.
Simon took off after college and played a career spanning multiple countries, including a stint with the Orlando Magic right out of college. He also played in the Continental Basketball Association where he finished his career as the most decorated player in league history.
After his playing days, he returned to Arizona as another guard to join the coaching staff at UA from 2005-2008.
Total NBA Earnings: $600,000
Gilbert Arenas:
The NBA point guard played shooting guard during his tenure as a Wildcat because Gardner ran the one-guard. Arenas has been touted to wear number zero because no one thought he could make it in collegiate or professional basketball but he has done just the opposite.
Arenas was a two-time All Pac-10 player and an All-American in 2001 as he helped lead his team to a national title game appearance.
Under the tutelage of Lute Olson, Arenas was prepared for any obstacle thrown his way and after being drafted by Golden State with the 31st overall pick in 2001, he has blossomed into one of the best players in the NBA.
In addition to a lucrative contract with adidas, the three-time NBA All-Star is making over $14.6 million dollars this year and the contract grows before topping out at over $22 million dollars in 2013-14.
Total NBA Earnings: $52 million
Salim Stoudamire:
The cousin of Damon, Salim has been immortalized to UA fans after his incredible senior season, which included game winners such as a three-pointer at home against
UCLA
as ABC's Brent Musburger broadcasted the knockout punch.
Salim left school as the premier shooter in the nation and lifted Arizona into the Elite Eight that season after hitting a game-winning shot in the Sweet 16 over two
Oklahoma State
defenders. He made 342 career three-pointers and is Arizona's all-time leader in three-point makes.
He was named an All-American in his senior season and was drafted by the Atlanta Hawks with the 31st overall pick. He is currently a member of the Milwaukee Bucks where he has a two-year deal.
Total NBA Earnings: $2.1 million
--
With all the success Arizona has had at the guard spot, it is fair to ask if it will continue under a new coaching regime.
And that's an easy one to answer. Yes. The tradition will live on under
Sean Miller
. Miller was a point guard himself during his days at
Pittsburgh
and he knows what it takes to not only succeed as a guard, but to rewrite the record books.
Miller is still known as one of the best point guards in Pitt history and has a track record of success with point guards during his coaching tenure. So don't fret, the nation's elite point guards will continue to put Arizona on the top of their list as they will continue to carry on the proud tradition.

Click
Here
to view this Link.