{{ timeAgo('2021-07-21 07:58:59 -0500') }}
basketball
Edit
Western schools show interest in tough-minded Collin Chandler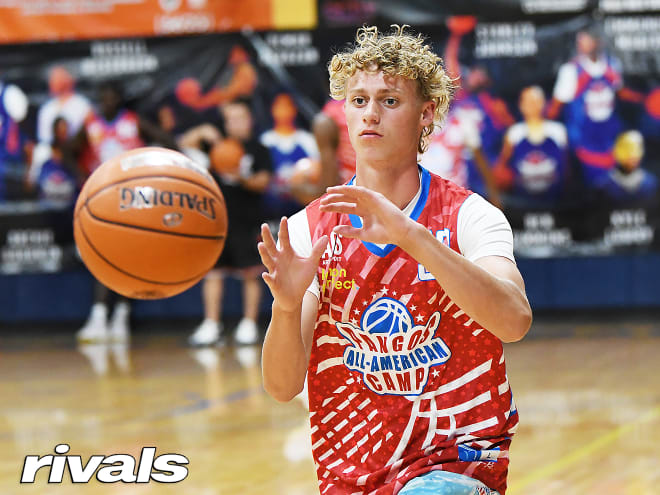 Collin Chandler is the No. 113-ranked player in the current 2022 Rivals150.
"I think I bring a lot of energy to the floor," Chandler said. "I can really score at three levels. My strongest part is probably getting to the rack and finding my big guys, you know drawing the defense. I have been working on my shot a lot, so I have become a three-level scorer."
The Farmington (Utah) High School shooting guard has made a big name for himself playing this summer with the Utah Prospects 3SSB program, and he has college programs tracking his every move.
"I started June with an unofficial visit to Utah and then BYU. Then I took official visits to Stanford, Utah State and then Arizona," Chandler said. "This is actually my first live period because I didn't play my 15s year. So, to play in front of college coaches, the atmosphere is super fun."
*****
MORE: The Cassidy Awards from UA Association | Jamie Shaw's takeaways from a week at Nike's EYBL
2021 Rankings: Rivals150 | Team | Position
2022 Rankings: Rivals150 | Team | Position
2023 Rankings: Top 30
*****
IN HIS OWN WORDS 
Stanford: "They had their first one-and-done not too long ago, so they are really transforming their program to one that produces NBA talent. This year they are probably going to have two guys get drafted. ... So with the awesome academics and great culture there they are really starting to build their program."
Utah State: "The in-state school obviously draws the eye. I didn't grow up there, so it was really my first time visiting there. The campus was great. They have a real college town. It's small, but I really liked it."
Arizona: "Their history is awesome. They have obviously produced a lot of pros and their program has a history of winning. They got a new coaching staff, and that staff is working really hard to put Arizona back on the map and they want me to be there for that."
WHAT'S NEXT? 
"I am probably going to set an official visit up to Utah when things get back going because I took an unofficial there. I am also looking to get something going with Creighton, and we will see what happens with Oregon. I would say those are my top schools though: Stanford, Utah State, Arizona, BYU, Utah, Creighton and then Oregon."
RIVALS' REACTION 
Chandler is a tough-minded, explosive wing prospect who has a nose to score the basketball. He is a good rebounder for his position, he is a good team defender and he can make shots with range. As Chandler continues to tighten up his handle he will only continue to reach his ceiling. With his skill set and mentality there is a lot to like here moving forward.