USA Basketball: The Bossi Awards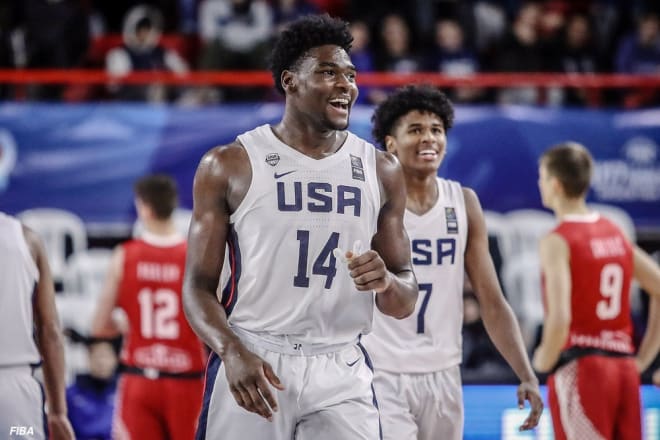 COLORADO SPRINGS, Colo. – The USA Basketball October minicamp wrapped up on Sunday and it is time to hand out some awards.
After a weekend at the U.S. Olympic training facility, national basketball analyst Eric Bossi hands out awards in various categories.

MORE USA BASKETBALL: Programs that should be excited | Top-ranked Carey nears decision
THE ALPHA DOG
From the beginning to end of camp, five-star senior Isaiah Stewart set the tone for how play in the low post was going to go. When Stewart was in the paint he showed maximum effort, tremendous physicality and a relentless need to compete. The guy just doesn't know how to not go all out and he often pushes himself to the brink of exhaustion.
If there was a camp MVP and I had a vote it would go to Stewart. He's seen Kentucky and Washington and is taking a step back from his recruitment to sort out his thoughts before making his next move. Duke, Indiana, Michigan State, Syracuse and Villanova remain involved as well.

THE RAIN MAKER
All weekend, Matthew Hurt was making it rain from deep.
There were certainly some good shooters at camp, but I didn't see anybody more confident with his jumper and from just about anywhere on the floor than Hurt was. His size allows him to shoot over pretty much anybody and his mechanics are tremendous.
Because he can balance that shooting with scoring at the rim or off the dribble, Hurt has one of the more complete offensive games in 2019.

THE FOUNDATION

The more you watch Josiah James play, the more you realize that there is just as much value in all of the little, non-boxscore things that he does right as the things he does that will show up in a scorebook.
James is a foundation player at a program such as Tennessee. He can be built around, he can defend, he can play multiple styles and things just seem to run a little smoother when he's on the floor.
THE PLAYMAKER

You don't have to play the point guard position to be an effective playmaker. Recent Florida commit Scottie Lewis is a perfect example of that. He's also an example of how you don't have the ball in your hands to make plays because he makes just as many plays on defense as he does offense.

Yes, Lewis has explosive athleticism. But more importantly he is quick, has tremendous instincts and always seems to make the right decisions in transition or on slashes to the rim. His passing is a big complement to his above-the-rim scoring and defensively, he's as versatile as any guard in the country.

THE BIG EASY
Jaden McDaniels, ranked No. 4 nationally, never seems panicked and nothing he does looks forced. Change-of-direction dribbles for quick pull-ups, slick drives to the rim and sneaky offensive rebounding make him a very clever scorer. No matter what he's doing to get his offense, though, it just looks like it comes easy to him. He's a natural face-up scorer with a quickly developing feel for what will work in each situation.
San Diego State will get his first visit while Kentucky, Texas, UCLA and Washington are in contention.

THE GOOD NEIGHBOR
Everybody needs a good neighbor to lend a hand from time to time. If the neighbor helps out enough times, they grow into a friend. Jeremiah Robinson-Earl is kind of similar to that as a basketball player.
He doesn't bring attention to himself with flash. He gets attention because of his steady, consistent and productive work on the glass and as an inside-out scorer. He's in tremendous shape at IMG and has also turned into a really dangerous pick-and-pop shooter.
He visits Arizona next and then he'll have to pick among the Wildcats, Kansas, North Carolina, Notre Dame and Villanova.

THE SWISS ARMY KNIFE
Is there really any other way to describe Scottie Barnes than as a basketball version of the Swiss Army Knife.
Whether you like him as a big three man or a small ball power forward, Barnes is big enough, athletic enough, tough enough and skilled enough to do whatever is asked. He excels making plays at the rim and in transition, passes very well and is as versatile a defender as there is in the country, regardless of class.

THE POGO STICK
I'm interested to see how 2020 five-star wing Greg Brown measured because he looks as if he has grown an inch or so since the spring. Whether he's 6-foot-7 or 6-8 doesn't matter because he has plenty of positional size and pound for pound, he may have been the best athlete in Colorado Springs.
He doesn't just jump high, it's how quick he gets off the floor for his initial, second and sometimes even third jumps. You can't teach it. He's also quick and agile, and always on balance. He's getting more confident off the dribble, scores in a variety of ways and is a pretty good rebounder. He has lots of upside.

THE SMOOTH OPERATOR
As camp wore on and has he got more comfortable playing against older class of 2019 guards, junior Caleb Love really started to produce.
Love looks like the ideal college guard and everything he does looks smooth. He scores off the dribble, makes jumpers off the catch, has good passing instincts and he can play either the one or the two. He reminds me a lot of Devonte' Graham in high school.

THE CONFIDENCE METER IS RISING
Does a player who is ranked No. 2 nationally really need a confidence boost? Probably not and I certainly don't think Evan Mobley is lacking in confidence. But, there's no doubting that his confidence level has risen to high levels and the proof is in the result.
Mobley plays like a guy who expects to put up big numbers. He calls for the ball, he's not afraid to pull up for jumpers and he can score in all kinds of ways around the rim. He's a rim protector and he's playing with a new level of swagger that has allowed him to continue to elevate his game.

THE FEARLESSNESS OF YOUTH
Class of 2021 Paolo Banchero isn't old for his class; he just turns 16 a little too soon to try out for USA Basketball's 16U team next summer. Because of that he and others in his position from the class of 2021 that USA Basketball wants in its system played with the 2019 and 2020 players.
Banchero could have dominated physically in the 2021/2022 gym, but he instead showed zero fear playing against players that were one and two years his senior. He's tough, skilled and has a great feel for the game. It's still early in his recruitment, but I'm sure that Washington coach Mike Hopkins is hoping that Banchero wants to follow in the footsteps of his parents, who were both athletes for the Huskies.

THE PROSPECT
He deserves time to develop without too much being expected out of him, but an argument could be made that Emoni Bates may have been the best long-term prospect at USA Basketball. Regardless of class.
I've been attending USA Basketball events for years now and Bates made as favorable a first impression on me at the event as I can remember a freshman making in quite some time. The 14-year-old looks like he has it all. Size, athleticism, feel for the game, a pretty jump shot along with charisma and edge to match.
DePaul was Bates first offer, but he's going to be stockpiling more very soon.