UA wants Bear Down given historical due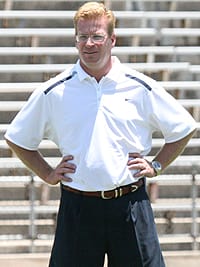 Upon moving to Tucson 11 years ago, and witnessing my first University of Arizona football game, the same chorus kept running through my head: "Bear Down Arizona."
"What's up with that?" I remember thinking at the time.
I mean, there it was in big, bold letters on the playing field, the marching band belted it out every 15 seconds or so, and I noticed there was even a building on campus named Bear Down Gym with the words painted on top.
Later, I came to know the origins of this distinctive slogan.
For those Wildcat fans who have been living in a cave the last, oh, 80 years, the story goes something like this:
On the evening of October 3, 1926, John "Button" Salmon, the UA's student body president and quarterback, was critically injured in a car accident while returning to Tucson from a weekend in Phoenix with three classmates.
The day before his death on October 18, he was visited at his Tucson hospital by Arizona head coach J.F. "Pop" McKale, who asked Salmon is he had a message for the team.
From his bedside, Salmon reportedly told McKale: "Tell them ... tell the team to bear down."
Following his funeral and internment in Evergreen Cemetery in Tucson on October 20, the Wildcats traveled to Las Cruces for a game against New Mexico A&M.
In his pre-game speech to the team, McKale told the Cats about Salmon's dying words. Arizona then went out and won a hard-fought 7-0 victory.
Within a short time, Salmon's exhortation to "bear down" became a rallying cry for Wildcat teams and Arizona students and alumni everywhere.
And now, the UA Alumni Association wants to make sure the words "Bear Down" are given their historical due by raising funds for a plaque to be erected at the site of Salmon's accident on State Route 79 near Florence, Arizona.
The Association is soliciting contributions which will go toward production, installation and maintenance of the monument, which recently gained Arizona Department of Transportation approval.
Contributions are 100-percent tax deductible, and can be made payable to "UAF/Lettermen's Club," and sent to:
Lettermen's Club
UA Alumni Association
P.O. Box 210109
Tucson, AZ 85721-0109
href="http://arizona.rivals.com/search.asp?Search=1&Terms=Durrenberger&Artic
les=1&SearchSite=974">
src="http://vmedia.rivals.com/uploads/974/480836.jpg" alt="Charles
Durrenberger" border="0">
Charles Durrenberger served as UA football beat writer
href="http://www.azmoves.com" target="_blank">Coldwell Banker Residential
href="mailto:Charles.Durrenberger@AZmoves.com">Charles.Durrenberger@AZmoves.
href="http://www.CharlesDurrenberger.com"
target="_blank">www.CharlesDurrenberger.com.