The Brandon Jennings Show comes to Tucson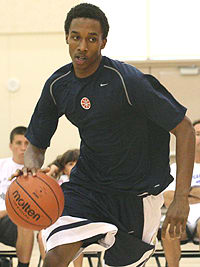 Oak Hill Academy, based out of Mouth of Wilson (Va.), is arguably the top high school basketball program in history. With seven national championships and an alumni list filled with ex and current college and NBA players, Oak Hill has been the premier high school basketball team for several years.
From Kevin Durant to Carmelo Anthony to Jerry Stackhouse to Stephen Jackson to Josh Smith, the NBA is littered with ex-Oak Hill stars.
A typical season at Oak Hill features many of the nation's top basketball players going on the road, facing some of the best teams in the country and competing for national championships.
However, this year has been different, as two-thirds of what was supposed to be the best backcourt in the country are no longer on the team.
Willie Warren
and
Malik Story
were expected to help
Brandon Jennings
make this year's Oak Hill team as competitive as ever, but Story was dismissed and Warren went back home to Texas.
That's left Jennings to carry the load, with some help from junior big men
Glenn Bryant
and
Keith Gallon
. While over 99% of all high schools in the country have never had a trio like that in their history, it's still not up to par by Oak Hill's standards.
The defections of Story and Warren have left Jennings to carry the load and the 6-foot-0, 170-pound future Wildcat point guard has made the most of the situation.
Jennings was averaging 40.5 points, 9.6 assists and 6.8 steals per game
Samardo Samuels
and Newark (N.J.) St. Benedict's High School.
Oak Hill entered the contest 11-0, but 21 points and four assists from Jennings weren't enough, as the Warriors fell, 68-62. It was by far Jennings' worst game of the season and it came at a bad time, as fans from across the country watched the loss live on ESPN2.
Up next for Oak Hill was a Dec. 15 game against Benedictine High School, and this time Jennings poured in 40 points, but missed a potentially game-winning three-pointer and the Warriors lost, 73-72.
After a rebound win against Huguenot, then 12-2 Oak Hill took the road for its toughest matchup yet.
On Wednesday, Dec. 19, Jennings and Oak Hill were in Texas to take on the nation's 2nd ranked prep basketball team, Duncanville High School. Jennings scored the first eight points of the game for Oak Hill and scored seven in overtime, leading Oak Hill to a 77-76 victory.
Following the game, Stefan Stevenson of the Fort Worth Star-Telegram reported:
Jennings, who led all scorers with 34 points, was unstoppable in overtime. He scored seven of his team's nine points, including a 3-pointer and two free throws. A Duncanville student chant of "overrated" each time he touched the ball helped motivate him, Jennings said.
"I think I showed them I really wasn't overrated," Jennings said. "That motivated me a lot."
13-2 Oak Hill Academy faces another challenge this Saturday, Dec. 22 at McKale Center against Greensboro (N.C.) James B. Dudley in the
GOAZCATS.com Showdown
.
All eyes are always on Jennings as it is, but this time will be different as the nation's #1 player in the 2008 class by several publications will be playing on his future home court.
Last year, UA freshman
Jerryd Bayless
had the same opportunity to play at McKale Center, but his St. Mary's High School squad fell to Tucson High School 66-61, as Bayless shot 5-22 from the field, including 1-10 from three.
Jennings is hoping to avoid Bayless' fate and is planning a big performance for the UA faithful.
"I'm extremely excited to be able to play at McKale Center before my freshman season at Arizona," said Jennings. "I'm going to put on a show for all of the Arizona fans and show them what they have to look forward to for next year. This is a great opportunity for myself and Oak Hill Academy."
It's also a great opportunity for UA fans, who get to see the Wildcats' future star point guard live and in person at 5:00pm MST, roughly a couple hours after Arizona finishes its home game against San Diego State, which tips off at 1:00pm.
Jennings is hopeful for a good contingent of UA fans in attendance and so is GOAZCATS.com Showdown producer Jim Storey.
"We really hope that Arizona fans will show up and support Brandon," said Storey. "He's been looking forward to this game for a long time and the opportunity to watch the top high school player in the country, in person, is a unique experience for basketball fans in the city of Tucson."
While Oak Hill Academy typically features several of the nation's top preps, this year's team is essentially a one-man show.
The Brandon Jennings Show will be a regular feature at McKale Center a year from now, but this Saturday, UA fans will get a sneak peak of what's to come.
Click
Here
to view this Link.