Nomaaea starting to make a name for himself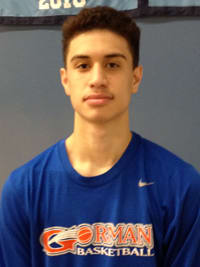 [rl]
It seems like Las Vegas (NV) Bishop Gorman high school is always producing Division I talent out of its basketball program.
But there's a fairly new face in the Gaels starting lineup, one that could have a major impact of his own, and that is class of 2016 wing Chase Noma'aea.
The smooth 6-foot-6 prospect has been playing with the Dream Vision 16U AAU squad through the spring and into the summer, and he said that he's been working on a few different things to grow his game.
"Through the spring and summer I found that a lot of the guards are a little faster and stronger than me," Noma'aea told GOAZCATS.com. "So I've been working on trying to get bigger and quicker."
The sophomore also said that his offensive game is evolving. Over the weekend at the Corona del Mar shootout in Newport Beach, Calif., Noma'aea displayed his versatile scoring by hitting jumpers from all over the court, and converting easy layups off of well-timed cuts to the hoop.
"I've been working on my shot a lot," he said. "I didn't always have that pull-up."
Well, he has it now, and he's a deadly shot-maker from 15 feet in transition.
Noma'aea has had to switch his mindset from AAU basketball to being one of two new additions to the Gorman starting lineup and he's looking forward to the challenge.
"This is a big role for me," he said. "Last year I didn't get a lot of playing time, and (the coaches) told me next year. Now I'm getting a lot of time and have to keep working to keep that spot."
Noma'aea said that he has heard from a few schools, and that playing alongside Zimmerman and Jeter has its benefits both on the court and in the recruiting scene.
There's still plenty of time for Noma'aea to develop his game, and he's in a good place to do so.

GOAZCATS.com West Coast recruiting analyst