Miles Simon to have jersey recognized by Arizona at Red-Blue game
He helped Arizona win the National Title in 1997 and took home the NCAA Tournament's Most Outstanding Player award that year too. Now, the Wildcats have announced the decision to "recognize" (i.e. retire) the former UA standout guard's college jersey - Arizona athletic director Greg Byrne said Wednesday.
"My first reaction was that I really couldn't believe it," Simon said about his latest honor. "Mr. (Greg) Byrne called me (Tuesday) afternoon and left me a message asking to call him back. I didn't know why, so I called him back and he tells me that the school has decided to retire my jersey and I just said 'are you serious?' And he said, 'I'm serious.'
"So I was just kind of in shock a little bit on the phone because it means a lot to me. The University does, the city and the years and time that I spent there. To be able to have my number hanging up with the other great players ... I told him, 'you brought tears to my eyes.'"
Previously Arizona's rules for retiring a jersey included a stipulation that Simon did not meet, which is that for a jersey to be retired a student-athlete had to have "received a major national "athlete of the year" honor" among other criteria. Simon's Most Outstanding Player award for the 1997 NCAA Tournament didn't qualify, and he thought that meant his chances of getting his jersey retired were slim to none.
However, things changed and Simon couldn't be happier about it.
"This is something I've long dreamed of and I didn't know that it was ever going to happen because I didn't meet the qualifications," he said. "He (Byrne) told me that whoever the people are that make the decisions had a meeting and they revised the qualifications and I'm the first beneficiary of it.
"So, it's a tremendous honor."
It couldn't come at a better time either as this year marks the 20th anniversary of Arizona's improbable run through the NCAA Tournament in 1997 that ended with Simon and the Wildcats cutting down the nets at the RCA Dome in Indianapolis.
As many of Simon's teammates will be in Tucson to celebrate the anniversary of UA's National Title during Red-Blue weekend it works out perfectly to add another memorable moment for the Wildcats.
"It's really cool that it's going to happen during the Red-Blue game and that many if not all my teammates will be there, and that coach (Lute) Olson can be there," he said. "My family was already planning on coming for this celebration, and I told Greg Byrne this is just the icing on the cake that my jersey is going to go up in the rafters."
The improbable run that Simon led the Wildcats on - with some help from a special group of teammates - was one that meant standing up to and ultimately defeating three No. 1 seeds ... a feat that had never been accomplished.
The UA guard didn't do it on his own and that is one thing he wants people to remember most about his legacy when they see his No. 34 that will soon hang at McKale Center.
"It's a total team accomplishment for me to have my name up there," he said. "Because I couldn't have done it without them and without the team success that we had. It would have never happened. So I think that's the lasting memory or legacy. It's a player's program like Sean Miller says, but it's a true family. Those are my brothers that I went to battle with and they helped me get to where I'm at."
Simon scored 132 points over the span of the Wildcats' run in the NCAA Tournament, which was tops for any player that year. He averaged 22 points, four rebounds and 3.2 assists en route to winning the Most Outstanding Player award.
During his four-year Arizona career (from 1994-1998) the Wildcats had a record of 106-27, which included the National Title in 1997 and the Pac-10 title in 1998.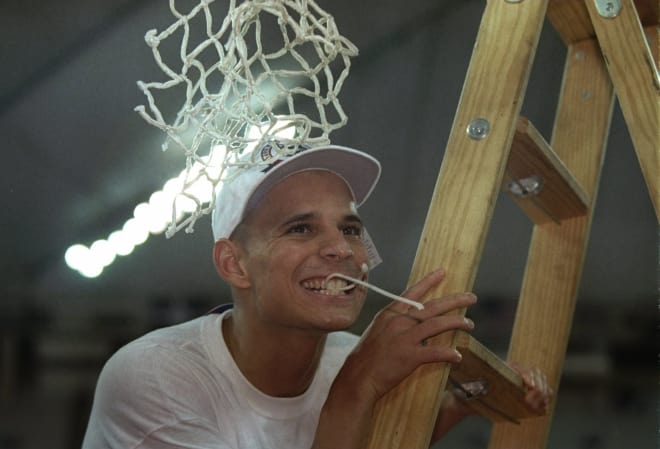 The Southern California native, who attended Mater Dei High School in Orange County, also went on to become a consensus all-American before being drafted by the Orlando Magic at No. 42 overall in the 1998 NBA Draft.
After his stint in the NBA the Wildcat guard went on to continue his professional career with stops in Israel, Italy, Venezuela and Turkey.
Once his professional playing career was over Simon returned to his alma mater as an assistant coach on Lute Olson's staff from 2005-2008. Since then Simon has gone on to a career in television while also continuing to work as a coach in the off season whether it be with USA Basketball or as camp director at the prestigious Nike Skills Academy this summer.
He also spent time as coach of the California Supreme travel basketball team where he had the chance to coach current UA point guard Parker Jackson-Cartwright.
Simon has continued to rack up the honors long after his days at McKale and Arizona came to an end, but having his jersey retired by his alma mater has already moved up his own list of proud accomplishments.
"Basketball wise it's right up there at the top," he said of having his jersey retired. "Now, nothing can top my family, my wife and my kids but basketball wise winning a National Title and having my jersey retired ... I don't know - 1 and 1a I guess. It probably doesn't get much better than those two things. I won a gold medal at the U17 level which was pretty awesome, and that might be two.
"The jersey up there with Arizona it's hard to top that besides my National Title ring."
Simon now joins former Wildcats Sean Elliott (1989), Steve Kerr (1988), Mike Bibby (1998), Jason Gardner (2003) and Jason Terry (1999) as the members of Arizona's men's basketball team to have their jersey retired.
The ceremony for Simon will take place at halftime of Arizona's annual Red-Blue scrimmage on Oct. 14.