Luke Walton wins NBA title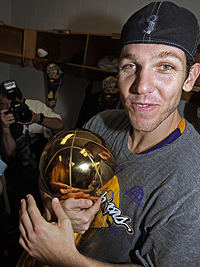 Luke Walton
became the fifth ex-
Arizona
Wildcat to win an NBA Championship as he and the Los Angeles Lakers won the franchise's 15th championship by defeating the Orlando Magic on Sunday night, 99-86.
Walton now joins five-time NBA champion Steve Kerr, who won three with the Chicago Bulls (1996-1998) and two with the San Antonio Spurs (1999, 2003).
Jud Buechler is a three-time NBA champion with the Chicago Bulls (1996-1998) while Sean Elliott won one with the Spurs in 1999 and Bison Dele won one with the Bulls in 1996.
One common thread between all of the players excluding Elliott is the coach at the helm as Phil Jackson is responsible for coaching 8 out of the 11 championships captured by former Wildcats.
The second Bulls' three-peat featured three Wildcats in 1996 with Kerr, Buechler and Dele that were a compliment to the dominant play of Michael Jordan and Scottie Pippen. Kerr then found a home in San Antonio and helped Elliott, Tim Duncan and David Robinson win a title in 1999.
Walton's championship is the first since Kerr won his fifth and final championship in 2003 with the Spurs.
This was Walton's third appearance in the NBA Finals as he is now 1-2 on the biggest stage in the sport. The Lakers lost to the Detroit Pistons in five games back in 2003 and last season were defeated by the Boston Celtics in six games.
"I didn't know what it was going to feel like," Walton told SI.com. "But I'm not disappointed."
Walton also made history with his family. He and Bill Walton become the third father-son duo to win a NBA Championship as Matt Guokas Sr. and Matt Guokas Jr. both won with the Philadelphia franchise, while Rick Barry and son Brent Barry captured titles as well.
Bill Walton won two championships, first with the Portland Trailblazers in 1977 and then with the Boston Celtics in 1986. Luke Walton now has his first with the Lakers in his third visit to the NBA Finals.
"He's been telling us since we were kids that it's one of the greatest experiences of his life," said Walton. "Now I can share that with him."
Walton scored two points, had two rebounds and dished out one assist in 14 minutes of play in the series clinching game five win against the Magic.
In the 2009 playoffs, Walton averaged 3.8 points, 2.5 rebounds and had 2.1 assists while averaging 15.6 minutes per game.
Click
Here
to view this Link.