Introducing the Arizona Cactus Classic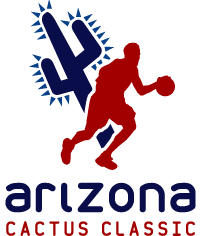 GOAZCATS.com is pleased to announce that one of the summer's biggest AAU tournaments will be held in Tucson, Arizona at McKale Center on the University of Arizona campus.
The Arizona Cactus Classic, which will be held from Friday, May 19th through Sunday, May 21st, will host some of the best AAU teams and players in the country. There will be 24 teams total – 19 of which have already committed to play – and fans can expect to see some big time talent.
Tournament Director Jim Storey, founder and publisher of GOAZCATS.com, is excited to bring an event of the Arizona Cactus Classic's magnitude to Tucson.
"This is a tremendous opportunity to bring some of the nation's top talent together to compete against each other in a smaller tournament format," said Storey. "Southern Arizona has not been able to watch amateur talent of this caliber since the days of the McDonalds Western Wildcat Classic."
There will be no shortage of talent competing in this tournament. AAU teams already committed to attend include the Southern California All-Stars, Houston Hoops, Pump N' Run, Arizona Magic, Atlanta Celtics, Compton Magic, Belmont Shore, Oakland Soldiers, H-Squad, P-Miller Ballers, EBO, Las Vegas Prospects, SoCal Razorbacks and Worldwide Renegades.
Five slots are left in the Arizona Cactus Classic that will soon be filled with elite level AAU teams. Even though teams will later be added, it can be assured that some of the country's best talent will be competing on the McKale Center floor.
Here are some of the top players expecting to compete, with their AAU team and Rivals.com ranking included:
Rivals.com has yet to rank prospects from the 2008 class but SoCal All-Stars point guard Brandon Jennings is considered to be the top player in the country. Other top 20 players from the 2008 class that will play in this tournament include Drew Gordon (Oakland Soldiers), Larry Drew (Pump N' Run), Jeff Withey (EBO), Jrue Holiday (Belmont Shore) and Luke Babbit (Las Vegas Prospects).
To get so many top level teams to an inaugural tournament in a city that isn't known for AAU basketball has been a massive undertaking.
"The Arizona Cactus Classic wouldn't be happening without the support of the Tucson community and in particular, our sponsors. For the past several months, we've been working hard to ensure that the tournament not only has some of the best teams and players but will also be a great experience for the participants and spectators."
Each team is guaranteed to play a minimum of four games and it's possible that a team could play up to eight games. Every contest will be held on the University of Arizona campus at either the McKale Center or Bear Down Gym, with a majority of the games being played at McKale.
A total of 59 games will be played at the Arizona Cactus Classic. Fans can expect to see intriguing match ups throughout the tournament.
Tickets to the Arizona Cactus Classic will be $10 for the entire weekend.

Click
Here
to view this Link.