Gauchos take title in successful Cactus Classic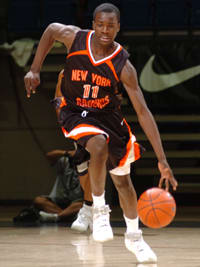 The second Arizona Cactus Classic is under wraps and from all accounts, it was once again a success. There was great competition, plenty of elite level talent and some exciting games.
UA fans in attendance got to see many of their team's top prospects, while the national scouts and recruiting analysts were given the chance to evaluate not only the talent on the West Coast, but as the New York Gauchos proved, the tourney had its share of East Coast players as well.
The road to the championship game of Belmont Shore and New York Gauchos was exciting, but it almost never happened.
Who would have guessed that a few high schools' proms in Northern California would have such a significant effect on a major AAU tournament in Tucson?
That was definitely the case, because when the Oakland Soldiers pulled out of the tourney on Wednesday night due to several of their players having prom, it changed how everything would go down at the Cactus Classic.
The impact Jennings would have over the weekend was felt right away. All he did in his first tournament game with Belmont Shore was lead his new squad to a 98-91 win over Pump N'Run Elite, the defending Cactus Classic champions.
In Belmont Shore's 98-91 win, Jennings was electric, scoring 28 points with 10 rebounds. When you combined that production with DeRozan's 29 points and Nelson's 22, it was enough to take down Pump N'Run.
Jennings' addition to Belmont Shore meant that Pump N'Run had to take the second seed in Pool D, resulting in a second round game against New York Gauchos. While the Gauchos probably had too much for anyone this weekend, it wasn't a team that anyone wanted to face early into the tournament.
If Pump N'Run beats Belmont Shore on Friday night, the team probably makes it to the championship game. Instead, the 2006 champions didn't get past the second round.
With all that said, throughout the tournament, the Gauchos appeared to be one step ahead of everyone else in the field. What was most impressive though is that it was a true team effort, as everyone on the New York squad stepped up at different times.
Take point guard
Kemba Walker
for example. He averaged 11.7 points per game in pool play, doing just enough to help his team to wins over New Mexico Force, Sporting Chance and Inland Reebok.
When the tournament came around, Walker stepped up his game, averaging 18.0 points per game in the tourney, including 22.3 PPG in the quarters, semis and finals. The best point guards step up when their team needs it and when it was all said and done, Walker was the last point guard standing, which is why he took home tournament MVP.
But Walker was just one piece of the Gauchos' puzzle and there were several players that contributed to the team's title run. Another example is Dan Jennings, who, coming into the tournament, was a little known 6-foot-9 center from Bishop Loughlin.
In the first four games, Jennings didn't do much to disprove his lack of hype, as he averaged just 5.0 points. However, his team needed him against Pump N'Run Elite, as there wasn't anyone else on the Gauchos who had a big enough body to match up with the team's ridiculous frontcourt of
Reeves Nelson
,
David Wear
and
Travis Wear
.
Nelson and the Wear twins are household names for those who follow recruiting closely, while Jennings is a complete unknown. However, he stepped up big time against Pump N'Run, scoring 18 points to Nelson's 14, Travis' 10 and David's seven.
His physical style of play appeared to be too much for Pump and he was a key ingredient to the Gauchos' win.
Just about everyone on the Gauchos had their moments. There isn't one school currently listed on
Chris Fouch
's Rivals.com profile, but he certainly looked like a D-I prospect when he dropped 23 points on Pump N'Run – almost as much as
Larry Drew
(13) and
Jrue Holiday
(11) had combined.
Fouch was also impressive of against the Jennings/DeRozan/Nelson trio, as he scored 21 points in the tournament championship game. He also had 17 in a close quarterfinals game against a talented Wisconsin Playground squad.
Point guard
Jordan Theodore
was impressive, also helping out in the win over Pump, scoring 16 points with six assists in the victory. He also had games of 14 points against California Supreme in the semifinals and 13 points, four rebounds and five assists in the opening round game against the West Coast All-Stars.
Kevin Phillips is another Bishop Loughlin big man who wasn't well known heading into the Cactus Classic, but proved himself this weekend, particularly in the tournament. Phillips averaged just 6.7 points and 3.0 rebounds a game in pool play, but stepped it up in the tournament, where he averaged 10.6 points and 6.8 boards a game.
2009 shooting guard
Durand Scott
, ranked 34th in the 2009 class, came into Tucson as the most highly regarded player on his team. Scott was consistently impressive all weekend long, finishing the tournament averaging 9.5 points a game. His all-around game shined in the championship, where he scored 12 points with seven rebounds and five assists.
Darryl Bryant
is another name to add to the list, as he averaged 12.3 points a game this weekend, but was particularly huge in the semifinals and finals, where he averaged 18.0 in two games.
Dorvell Carter and Devin Hill also had their moments this weekend, providing a good spark off the bench.
In 2006, Pump N'Run Elite played the best basketball together for eight straight games and defeated some more talented teams in taking home the Cactus Classic title.
In 2007, the New York Gauchos had the best group performance and were well deserving of the championship trophy.
On May 16-18 of 2008, they'll have the chance to do what Pump N'Run Elite couldn't and repeat as Arizona Cactus Classic champions.

Click
Here
to view this Link.