Curiosity didnt kill this Cat or get him to leave Arizona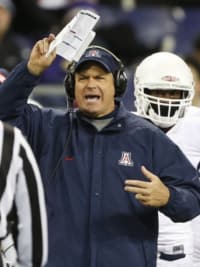 [rl]
"I'm excited to be at Arizona, the future is very bright and I'm very appreciative of our fans and their support certainly," Rodriguez said to a group of reporters at times looking for the right words. "We're going to continue to build the best program in America."
But was there truly an offer? That may have been the $64,000 - or multi-million dollar question these days - question?
On Saturday night, Arizona athletic director Greg Byrne said in a tweet: "Great news! @CoachRodAZ did not commit to the offer from S. Carolina. He's an Arizona Wildcat. #BearDown."
Just earlier, Rodriguez had tweeted: "Happy and honored to be an Arizona Wildcat!! Bear Down!!"
The two exclamation points were for effect and, well, enthusiasm. Apparently.
Oh, and the offer? Rodriguez didn't want to get into all that, as he put it. But said the tweets had "no inaccuracies."
Byrne said Rodriguez's term won't have any added any money either. Rodriguez will make what he makes, which is near $2.8 million a season according to a USA Today coaches data base.
On Sunday afternoon, an hour or so after UA was announced to play New Mexico in the New Mexico Bowl, Rodriguez reluctantly - but quickly - spoke about the chance of going to South Carolina.
Rodriguez called it "mutual interest and curiosity and in the end it wasn't enough to make a move either part … on both ends."
It's kind of like one of those weird breakups or possible hookups where the end result is: "this is not about you but me." Or, "this is about you and not me."
Of course, it's always awkward whenever that happens.
Let the spin cycle begin. Hell, what does it matter now? Rodriguez will be back for his fifth year and coach his team into its fourth consecutive bowl in two weeks. That's a first for the Arizona football program
"I've got a great situation here, got a good group of kids, tremendous fans and support," he said. "We will take it from there. We've got some things we gotta fix here and there's been some adversity but there's nothing I've seen that we can't fix. But we've got some work to do."
That's apparent. But Byrne wants Rodriguez and for now Rodriguez is Arizona's, although this will happen again next year because in my estimation Rodriguez is a good coach.
Still, was Byrne nervous about losing his coach? He didn't say yes or no but said his job is about "being prepared for each of those scenarios. He knew the entire time we wanted him to be here and I felt he wanted to be here."
And so he's here … let's see how the next 365 days play out.