Can SCA be stopped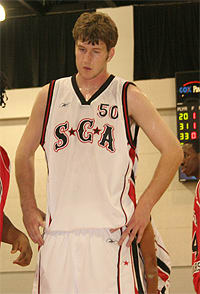 In SCA's two tournaments so far this spring - the Las Vegas Easter Classic and the Houston Kingwood Classic - the team has been completely unstoppable.
After SCA won a game by 35 late into a tournament this spring, the losing team's coach said it best.
"You can't even be upset," said the coach. "There's no way to stop them."
So far, that's certainly been the case. Love has played as if he's one of the top few players in the 2007 class and Jennings is making a similar case for 2008. The rest of the team is very talented and the group has great chemistry.
SCA is so good that we've spent several games listening to college coaches strategize how they'd stop them. From defensive schemes to theories on how Love can be taken out of his game, we've heard it all.
At the Arizona Cactus Classic, SCA will once again be the team to beat. The two questions we have are whether or not they will actually lose this summer and they do, will it be this weekend?
If it happens, it's unlikely to be in pool play. SCA kicks things off at 8:20pm on Friday at McKale Court 1 against the Las Vegas Dogcatchers Elite. On Saturday at 11:20am the All-Stars will take on TKO at McKale Court 2. The final game of pool play will be on Saturday at 2:50pm against Utah Pump N' Run on McKale Court 2.
Of the three teams, TKO is most likely to give SCA a game. However, while TKO is definitely a good team, it's going to take much more than being good to defeat SCA.
Looking ahead, should SCA win its first three games, the team will play at 6:10pm at McKale Court 2 against the fourth place team in Pool F. If everything plays out as expected, that team will be the San Diego Magic, another squad that SoCal wouldn't struggle with.
From the second round on, games should be much more competitive. SCA's second round game will be against either the second place team in Pool G or the third place team in Pool C.
It's hard to project who that will be, but the Pool G second place team will likely be either the SoCal Razorbacks or Arizona Magic. Third place in Pool C should be the AZ Rage of West Coast All-Stars.
The Magic took on SCA with Bayless in the semifinals of the Las Vegas Easter Classic and it was a blowout. However, because of the all-around talent of the Magic, they do appear to have a better chance than the Razorbacks, who definitely have two big time winners in Brown and Viney.
Let's say that the SoCal All-Stars do advance and from there on out, things could get very interesting. The next game could feature teams such as the Illinois Warriors and Circle of Success, both of which could definitely give SCA a game.
It's almost impossible to guess who SCA would play after that. Pool play is going to be competitive and any number of teams could win their first three games. One thing that's for sure is that every team going up against the SoCal All-Stars will give them their best shot.
Teams like the Illinois Warriors, Houston Hoops, EBO/EA Sport, Pump N' Run Elite, Las Vegas Prospects, Arizona Magic, Circle of Success, H-Squad, Compton Magic and others will be aiming to knock the All-Stars off the top spot and all those squads have the talent to compete.
Can the SoCal All-Stars be beaten? No one has been too close yet and it's unknown if anyone will knock them off at all this summer, but that's why they play the games.
Seeing if any team can be the first this year to defeat the SoCal All-Stars will be fun to watch. With so much talent in the Arizona Cactus Classic, anything can happen.