Bob Gibbons Tournament of Champions kicks off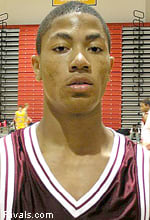 The Tournament of Champions is always known for attracting some of the top talent from around the country and this year is certainly no exception.
Among the top teams participating in this year's event are the Southern California All Stars, Michigan Hurricanes, DC Assault, Fox Valley Skillz and the surprise Nashville Celtics who have been on a roll the past couple of weeks in Tennessee.
There are always those players at every event that seem to rise to the next level when lights come on. Look for these prospects to have an impact on their team's success this coming weekend:
GOAZCATS.com will have live coverage of the Bob Gibbons Tournament of Champions all weekend long and we plan on watching all of the UA recruits participating. Other than Jennings on SCA, the majority of the prospects we'll be scouting don't usually head out west so this will be our first look at some of these Arizona recruits.
Stay tuned all weekend long as we'll have the latest on Arizona recruiting from the Bob Gibbons Tournament of Champions.