Australian center Sam Froling breaks down recruitment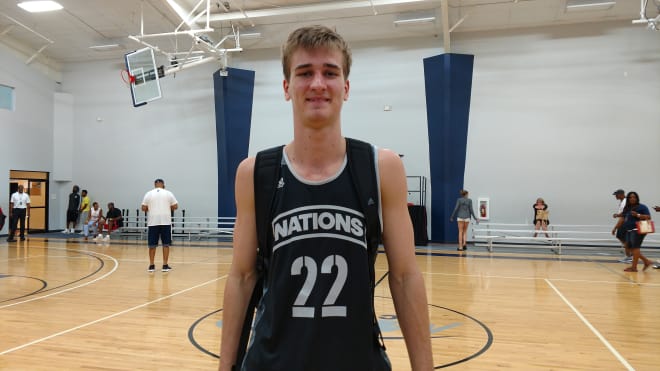 There has been no shortage of college success from native Australians in recent years and Sam Froling could be the next in line. A 6-foot-10 center and younger brother of Marquette transfer center Harry Froling, the rising senior displayed great value in the frontcourt at the adidas Nations Global and a few schools have started to stand out.
While he does have to get stronger and will never be described as an explosive athlete, Froling's know-how and skillset from 12-feet and in was showcased nicely this month in Houston. Averaging 11 points and four rebounds off 54-percent shooting, Froling explained where he stands with his college recruitment.
"I am 99-percent sure that I am going to go. I want to do some visits later this year," he said. "Schools that I am probably most interested in are Arizona, Pittsburgh, Indiana, Wichita State, St. Mary's and New Mexico."
MORE FROM THIS WEEK: Conference Call | Twitter Tuesday | New 2018 Team Rankings | 2017 Rivals150 Re-Rank | Rival Views: Is Duke the favorite?
IN HIS OWN WORDS
Arizona: "They see me as a similar sort of player to Lauri (Markkanen). It is definitely really appealing. They can get players to the NBA, which is what I really want. I need them to develop my game."
Indiana: "They are kind of new so I haven't really talked to them much but they just said that they are interested so we will see how it all goes with them."
St. Mary's: "I think of them just like other schools but not just because they have a lot of Aussies there. I do like there program. They have Jock Landale, who is a similar sort of player to me, as well. He killed it last year. It is an interesting prospect for me."
Wichita State: "I don't know a lot about the program but I know that they have been a good school. I think they can develop players, which is of course what I want."
WHAT'S NEXT?
Froling, now back home in Australia, has plans on taking a few trips in the coming months.
"I will probably take my visits at the end of this year or take some during the holiday break, which is in a couple of weeks," he said.

Finishing up his senior year in December, Froling has no plans of enrolling mid-year but rather next fall with the rest of the class of 2018 members.
RIVALS' REACTION
Froling is a throwback in the post that can score on crafty mid-range jumpers, hooks over either shoulder and has a decent enough feel for the game that enables for accurate passes from the low post. No visits have been set yet but it does look as if Arizona, Wichita State and St. Mary's may be out in the lead.