Arizona lands versative four-star Emmanuel Akot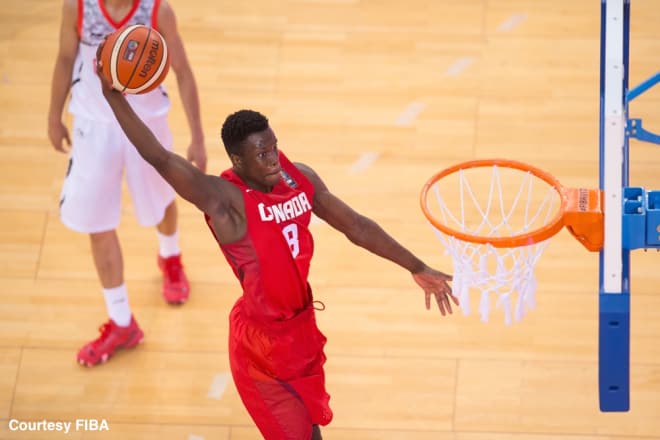 Arizona added yet another talented, versatile player as four-star wing Emmanuel Akot committed on Thursday.

A 6-foot-5 swingman that can play all three spots on the perimeter, the Wasatch Academy product is a tremendous start to what could be another top-five class nationally.
"When I went (to Arizona), I got to know the coaching staff pretty well," Akot said. "They have big plans for me and see me in the NBA someday. I feel like Arizona will give me the best opportunity to reach my goal. Arizona always has very good teams and I like to win and they have a winning culture at Arizona. The overall school and atmosphere also played a part in my decision. It is somewhere I can focus on winning and reaching my goals but also enjoy life at school."
Down to a final group of four schools consisting of the Wildcats, Utah, Oregon and Louisville, Akot sifted through the recruiting process pretty quickly. He visited Arizona in late February for its game against UCLA, then took a trip to Utah during the first week of March. At that point, the native of Manitoba decided that Sean Miller's system in Tucson was the best one for his college ball.
Akot has a good feel for what he will bring to the floor in two years.

"I plan to score the ball and find my teammates, but I also want to be known as a tough guy. I want to come in and stop the other team's best player, rebound and do all the little things to help my team win," he said.
Versatility has become the name of the game for Sean Miller during his coaching tenure at Arizona. Look at his 2017 class, a group ranked top-five nationally, and practically everyone signed for the Pac-12 juggernaut is capable of playing more than one position on the court. Akot, who will likely get the bump to five-star status during the next ranking update, fits the mold perfectly thanks to his vast scoring prowess, nifty set of ball skills and playmaking abilities, to go along with his defensive acumen at the other end of the floor.
While there still is some time to go in completing their 2018 class, Akot is certainly a big win. The Wildcats remain in the hunt for at least one more senior recruit, which will cap another stellar class for Miller.