Arizona honors Bob Baffert, an alum with great horse sense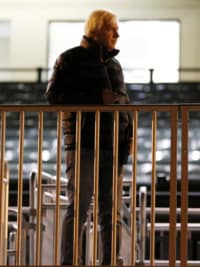 You never know but the next great horse in Bob Baffert's stable might be named after
Sean Miller
or Greg Byrne.
It could happen.
Through the years, there's been Midnight Lute (one of the all-time best sprinters named after Lute Olson), Candrea (for UA softball coach Mike Candrea), Da Stoops (former football coach
Mike Stoops
), Lady Regina (Greg Byrne's wife).
It looks like Miller could get a second shot after Miller Time wasn't fast enough to be talked about like most of the aforementioned horses.
Whatever the name would be it could be big news for the Arizona athletics program given Baffert's magic touch when it comes to training world-class horses.
"I told Miller we gotta come with something for him," said Baffert, who made a rare trip to his native southern Arizona on Saturday. He - and his family - were in town to be honored by UA's athletic department for what will go down as a dream year for the University of
Arizona
alum and Nogales native.
American Pharoah gave him his first Triple Crown after near misses with Real Quiet, Point Given and War Emblem more than a decade ago.
Then Pharoah, a horse of a lifetime, won the $5 milllion Breeder's Cup Classic earlier this month.
Pharoah is now retired. What a life for a horse and what a life it's been for the 62-year-old Baffert, who is undoubtedly the world's best known horse trainer right now. He has won five Kentucky Derby five times, the Preakness six times and the Belmont twice. He's won 11 Breeder's Cup races, most recently with American Pharoah.
"We knew we had the horse," Baffert said. "The Derby was special to me. When he hit the wire I knew this could be fun."
And, indeed it was. American Pharoah won the Preakness Stakes in a runaway and then followed it with a Belmont Stakes win to become the first horse to win the Triple Crown in 37 years.
"The thing I really miss is my parents weren't around for it," he said, referring to his parents who have passed away in recent years.
"I always felt this horse had an angel on his back and it was them."
He later said it may have been destiny. After Point Given failed to win the Triple Crown in 2001, Baffert asked the Lord to "give me one more shot. Just give me one more shot. I think I've got this down."
Fourteen years later, American Pharoah came on the scene like a bolt from the heavens.
"I'll never forget, when he opened up in the Preakness Stakes, I thought, 'wow, here's my shot for another chance at it," he said. "It went really smooth. When he turned for home in the Triple Crown, I didn't even root for the horse. I knew he was a winner."
Six months later, he crushed the Classic field.
Now, he's enjoying the fruits of his labor all the while getting ready for a winter meet at Santa Anita Race Track. Saturday he took time to be honored, coming back to Arizona Stadium for the first time in 30 years. He spoke of his fondness for Bear Down Gym and his time going to see Fred Snowden's basketball teams in the mid-1970s.
"Coming here … just a lot of great memories," he said. "They were the best years of my life when I came to the University."
He was here earlier this season when he was ESPN's surprise guest picker on Game Day when UA played
UCLA
. His pick wasn't a good one as he picked UA. UCLA won in a rout.
"It felt good to not talk about horses for once," he said. "It was really fun doing that and to me the only thing (about it) was my parents weren't around to see it. That's the only sad thing. I was so excited to do it. When I got off the set, (I said) that was really a lot of fun."
Steve Rivera has covered the Arizona men's basketball team full-time since the 1991 season, filling in since 1988. He's the author of the Arizona Basketball Vault and "100 Things Arizona Fans Need to Know & Do Before They Die."