Arizona Cactus Classic will be loaded with talent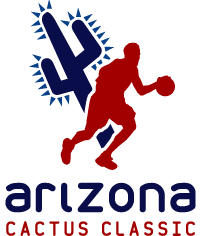 The
Arizona Cactus Classic
is just over three weeks away and the tournament is shaping up to be one of the premier AAU events of the summer. Some of the top teams and recruits in the country are all set to show up in Tucson for the May 19-21 tournament.
Expect to see several of the nation's best preps competing at McKale Center. With teams such as SoCal All-Stars, Houston Hoops, Arizona Magic, Pump N'Run and Illinois Warriors among those committed to playing, it's safe to say that the state of Arizona has never seen a tournament like this before.
The event features 32 elite-level teams that will compete in a total of 79 games. There will be eight pools of four teams each. Every team has three pool play games before advancing to a single-elimination tournament.
Tournament Director Jim Storey, founder and publisher of GOAZCATS.com, is excited to bring an AAU event of this magnitude to Tucson.
"This is a great opportunity for the city of Tucson to see the finest amateur basketball players in the country first hand," said Storey. "We have worked very hard to make sure the quality of play ranging from the first team to the last will be as strong as possible.
"We're excited that players competing in the Arizona Cactus Classic are committed to schools from every major conference. That shows the caliber of teams and players that we're bringing in."
There's certainly no shortage of talent that will be at McKale Center which is why many of the top recruiting analysts in the country will be in Tucson for the tournament.
31 teams are already committed and the last squad is expected to be added to the roster in the coming days. The tournament field continues to become more competitive and just this week, some of the nation's top AAU teams committed to attending.
"In the past week we've secured additional top quality teams including the Illinois Warriors," said Storey. "The Warriors have had a very successful history and have produced players such as former Wildcats Andre Iguodala and Traves Wilson. It's considered to be one of the top AAU teams in the country.
"Circle of Success from Montverde, Florida has been very successful in recent years, producing talent such as current UCLA forward Luc Richard Mbah a Moute. They've committed to playing in the Arizona Cactus Classic which is exciting considering their roster of several Top 100 players."
"Arizona fans will have the opportunity to watch three UA commitments, including one of the best guards in the 2007 class, Jerryd Bayless. Those in attendance will also watch one of the nation's premier teams in the SoCal All-Stars, a team coming off of back-to-back major tournament victories in the Las Vegas Easter Classic and the Houston Kingwood Classic. SCA boasts several Top 20 players."
When looking up and down at some of the teams competing and the players that will be in town, it's obvious that this is a one of a kind event for the city of Tucson.
Here's a list of the teams competing and some of the top recruits that will be playing in the Arizona Cactus Classic:
Arizona Magic Blue: Jerryd Bayless (Arizona), Gavin Edwards (Connecticut), Isaiah Thomas (Washington), Zane Johnson
Arizona Stars: Harper Kamp (California)
Basketball Avenue
Bay Area Hoosiers: Robert Jones (2006), Sammy Yeager (2007), Frank Otis (2008)
Belmont Shore: Clint Amberry (2007), Sean Williams, (2007)
Circle of Success: Solomon Alibi (2007)
Compton Magic: Jesse Woodard (2007), Joe Burton (2009)
Double Pump Elite: Justin Holiday (2007), Jrue Holiday (2008), Jerime Anderson (2008)
EBO: Jamelle Horne (Arizona), Jeff Withey* (2008)
H Squad: Seketoure Henry (2006), Jonathan Gibson (2006), Tyrone Shelley (2007), Jordan Block (2007), Troy Gillenwater (2008)
Houston Hoops: Gary Johnson (2007), Jai Lucas (2007), Isaiah Rusher (2007), Mike Singletary (2007), Anthony Jones (2008), Corbin Ray (2008), Tommie Mason-Griffin (2009)
Illinois Warriors: Bill Cole (Illinois)
Las Vegas Prospects: Billy White (2007), Luke Babbitt (2008)
Los Angeles Stars: Oscar Bellfield (2008), Edgar Garibay (2008)
Nike California Hoops: Elgin Bailey (2007), Isaiah Jenkins (2007), David Wear (2009), Travis Wear (2009)
P-Miller Ballers: DeMar DeRozan (2008), Percy Miller, Jr. (2009)
Phoenix Magic: Taylor Rohde (2008)
Portland Panthers: Andy Poling (2008)
Pump N' Run Elite: Austin Daye (2007), James Harden (2008)
San Diego Magic
Seattle Rotary Select: Venoy Overton (2007)
SoCal All Stars: Alex Jacobson (Arizona), Kevin Love (2007), Taylor King (Duke), Darrington Hobson (2007), Daniel Hackett (USC), Malik Story (USC), Brandon Jennings (2008)
SoCal Razorbacks: Kamyron Brown (2007), Drew Viney (2007)
Sporting Chance: Enoch Andoh (2008)
TKO: Quinton Watkins (USC), Jason Pruitt (2008)
Team California: Matthew Simpkins (2007)
Texas D1 Ambassadors: Kendric Robinson (2009)
Total Package Red: Steven Gray (2007), Clarence Trent (2008)
Utah Swoosh
West Coast All Stars: Jordan Hamilton (2009)
World Wide Renegades: James Hickson (2007), Chris Allen (2007)
* - Injured – status questionable
Not all players or teams are mentioned and there will be many more recruits added to this list by the time the tournament begins.
Tickets for the Arizona Cactus Classic go on sale the day of the event. The price of a ticket is $10 and that's good for all three days.
GOAZCATS.com will have much more on the Arizona Cactus Classic in the coming days.

Click
Here
to view this Link.