Arizona Cactus Classic returns to Tucson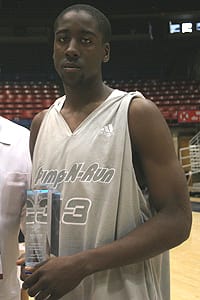 The Arizona Cactus Classic returns to Tucson this evening and the 32-team, 79-game event hopes for another great weekend after a successful inaugural tournament a year ago.
Several of the nation's top talent will be in town, as there will be prospects ranked in the Top 10 nationally in each of the next five recruiting classes – 2008 through 2012.
The AAU tournament begins at 6:00pm this evening at McKale Center and tickets can be purchased at the arena. $10 buys access to an entire weekend of games.
Tournament Director Jim Storey is looking forward to the Arizona Cactus Classic's second go round.
"I'm really excited about this year's Arizona Cactus Classic," said Storey. "There are several new and returning teams that will be in town, including the returning champions, Pump N'Run Elite.
"We anticipate a fantastic tournament with fantastic players and several very well known programs including the New York Gauchos, Houston Hoops and Pump N'Run. It's also interesting to have a Tucson team in Sporting Chance take part in the tournament after advancing to the quarterfinals in the Las Vegas Spring Showcase.
"Bottom line, this year's tournament brings together some of the top talent and teams in the country."
The 2006 Cactus Classic received positive reviews from the media, coaches, teams and players, making the anticipation for this year's event even higher.
Pump N'Run Elite defeated Houston Hoops in the championship game a year ago, and both teams return, making up two of the several talented squads that will be in action this weekend.
Last year's event was dubbed "quality, not quantity" by Rivals.com and things will be no different this year, proving the Arizona Cactus Classic as an AAU tournament unlike most of its peers.
"I think the quality of the teams as well as the smaller field of 32 teams makes it a more competitive tournament in addition to the unbelievable hospitality that we provide for the media as well as the players and teams," Storey said.
"We try to approach the tournament from a first class standpoint in everything ranging from accommodations and transportation to hospitality to team meals and game play. Everything demonstrates a first class environment."
While the Arizona Cactus Classic hopes to become a Tucson tradition, fan support in 2006 wasn't where it should have been considering the tournament's success.
Storey is hoping to see more fans in attendance this year to join the nation's top AAU programs, basketball prospects and recruiting analysts.
"Last year, to be honest, I was somewhat disappointed by the lack of attendance," Storey said. "Tucson is known to be a basketball community and in order for this event to continue, it's my hope that the city of Tucson demonstrates how much they care about their basketball.
"In essence, the Arizona basketball fan is seeing what could be the future of the Wildcats. In addition to that, they'll get to see some fantastic talent that will be playing in the Pac-10 and major conferences throughout the country with quite a few prospects having the potential of making it to the NBA. I hope that this year the attendance is much greater."
GOAZCATS.com will provide comprehensive coverage of the Arizona Cactus Classic all weekend long and throughout the next week.

Click
Here
to view this Link.