Introducing the GOAZCATS.com Showdown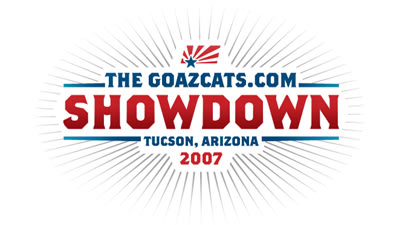 The GOAZCATS.com Showdown will bring the nation's top prep basketball team and best player to Tucson, Arizona.
The GOAZCATS.com Showdown will be on Saturday, Dec. 22, at 7:00pm and will feature Oak Hill Academy – led by future Wildcat point guard
Brandon Jennings
– against James B. Dudley High School of North Carolina.
Jennings, rated by media outlets such as ESPN.com, Hoopmasters.com, HoopScoop.com and SportsIllustrated.com as the best prospect in the 2008 class, leads an Oak Hill team that is currently 10-0.
The 6-foot-0, 170-pound Oak Hill star is averaging 40.5 points, 9.6 assists and 6.8 steals per game.
James B. Dudley went 25-5 in 2006-07, losing to Oak Hill by a score of 83-64 on Dec. 19, 2006. The team is led by two starters from last year's regional runner-up club in 6-foot-9, 220-pound senior center Mike Coger and 6-foot-3, 170-pound senior combo guard Marcus Heath.
Jennings told GOAZCATS.com that he's looking forward to playing in front of his future fans at McKale Center.
"I'm extremely excited to be able to play at McKale Center before my freshman season at Arizona," said Jennings. "I'm going to put on a show for all of the Arizona fans and show them what they have to look forward to for next year. This is a great opportunity for myself and Oak Hill Academy."
Arizona interim head coach
Kevin O'Neill
feels that Arizona is getting a special player in Jennings.
"It's not often you get a player of Brandon Jennings' caliber and we're thrilled to have him entering the program," O'Neill said. "Brandon is a special talent and we're excited that we'll be able to coach him at the University of Arizona."
Preceding the Oak Hill-Dudley game, at 5:00pm, will be a contest between Tucson's Salpointe Catholic and Phoenix's Desert Vista.
Salpointe has a 9-0 record and is the top-rated team in 5A-1 according to ArizonaVarsity.com and ArizonaPreps.com. Desert Vista is 5-2 and is #16 in the state's power rankings.
Salpointe is led by 6-foot-4, 180-pound shooting guard
Chase Adams
, who has signed to play with Air Force. Adams averages 25.2 points per game. Desert Vista's leading scorer is 6-foot-8, 190-pound
Michael Proctor
, who is signed to Northern Colorado. Proctor averages 12.1 points and 8.4 rebounds per game.
McKale Center doors open at 4:30pm and one $5 ticket is good for both the Salpointe vs. Desert Vista contest and the GOAZCATS.com Showdown between Oak Hill Academy and James B. Dudley High School.
At 1:00pm that afternoon, the Arizona men's basketball team will host San Diego State.
"This represents a great opportunity for Arizona fans to see the most exciting player in high school basketball," said Jim Storey, the producer of The GOAZCATS.com Showdown.
"Not only is Brandon an amazing talent but Oak Hill Academy is one of the most storied programs in high school basketball history. Dudley High School will present a great challenge for Oak Hill Academy and brings a great basketball tradition in its own right.
"It is important that the fans come out and support this big time basketball event."
Click
Here
to view this Link.