Change not limited to football for new Cats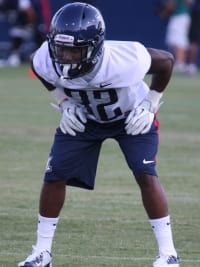 [rl]
The first part of the term "student-athlete" also can get lost in the shuffle as 18-year-olds try to adjust to being away from home for the first time, in most cases, and preparing for classes that start Monday morning. Some of the newest Wildcats are still trying to balance everyday responsibilities while also continuing to learn the UA playbook.
But, off the field, the team also has plenty to learn about one another. There are more than 30 freshmen and junior college transfers in a Wildcats uniform this season, and at least one player hails from either Arizona, California, Florida, Hawaii, Illinois, Louisiana, Oklahoma, Pennsylvania or Texas.
So what's been the biggest adjustment for most of the 2012 class?
"I've always got to repeat myself two or three times before they really get what I said. It's like everybody, in general, not even football. Just regular people that are like, 'Um, I didn't hear that. Could you repeat that?'"
"Trey (Griffey) and J.T., I really can understand what they say," Bennett said. "It's hard to understand the other people from like California, Pittsburgh …"
However, Denker, who spent the past three years including a redshirt season at Cerritos College in Norwalk, Calif., said not much has changed for him because of the diversity on the West Coast.
"There's a mixture of everybody," Denker said. "Everyone has different backgrounds, different stories. It's just about being a good teammate and making lifelong friends."
For a person coming in from a state that is known for its share of volcanoes as well as delicacies, the scenery and food were among the bigger changes for Bush-Loo - and it's the adjustments in weather such as Tucson's monsoons that are "weird."
"It's a whole different place," Bush-Loo said. "People are a lot different, the food is different - especially, the food. The big thing is the weather. It is a big change, still trying to get adjusted to it.
"Can't play the ukulele and sing anymore. My voice is cracked from yelling on the field. So, I'm still trying to get adjusted but I like it out here.
"You have a lot of rain and just all the clouds that come out. I'm not really used to it. There's floods in the streets and stuff. It's pretty cool to see something new."
But since arriving in town, Parks said he's since discovered Frankie's - which specializes in making authentic Philly cheesesteaks and is just five minutes from campus.
"I went in there and the guy was like, 'Are you from Philly?'" Parks recalled. "I was like, 'Yeah.' Because of the way I ordered it - I said salt, pepper, ketchup, mayonnaise and fried onions - and he was like, 'You sound like a Philly dude.'"
The cheesesteak earned his stamp of approval, proving that even a 2,400-mile move can still feel like home.

GOAZCATS.com Senior Editor