Arizonas Trier, part Dickerson and Reeves, carries UA to a win over Fresno State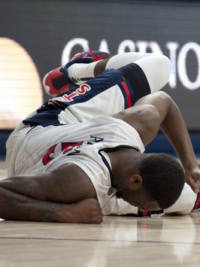 Click
Here
to view this video.
[rl]
Arizona
freshman
Allonzo Trier
came on the scene with gaudy credentials and grand expectations. Such is the case with every McDonald's All-American who has walked through the doors of McKale Center.
But now through nine games - maybe even through six games - you can see Trier becoming that player who will have a major impact this season.
He has that aura about him. As he said he has "a very strong belief in myself."
Through nine games, it's been about getting more experience and more reps Arizona coach
Sean Miller
said when talking about his prized freshman, who scored a career-high and game-high 27 points in Arizona's 85-72 win vs. visiting
Fresno State
.
"Tonight, he was the difference between us winning and losing," Miller said. "He carried us."
That might be the case a lot this year in as much as Trier can score - from the perimeter and near the basket.
He does it subtly (Dickerson) and not so subtly (Reeves) in getting to the basket like a "freight train" as Miller put it.
But as Trier put it, it's something he's "has been doing all my life. I'm a scorer, a very aggressive scorer … and a very aggressive offensive playmaker."
With every game it seems to click even better than the last. He gave fans a taste of it his second game in when he had 22 points vs. Bradley, although 14 points came from the line. But what it showed was his aggressiveness and the ease of which he gets to the basket.
But he admitted with every game comes more confidence. The accelerated improvement - he's scored 54 points on 26 shots in the last three games - may have been helped by a recent conversation with Miller where the head coach told him he'd allow him more latitude in his play.
Miller told him to "be yourself."
It eased his mind and made him feel comfortable.
Miller figures that over the last two years - when they spent time with each other for Team USA - Trier had earned it because he knows how hard he works at getting better.
"I got a really good feeling about him and how much he loves the game and how hard he works at it," Miller said. "I'm happy for him. He's trying really hard."
The work is paying off. He said Wednesday night he felt good and "felt free and very comfortable going out and playing like I know how to play."
Teammates have been positive and have encouraged him to play like they know how he can play. Every practice and every game has helped. The team chemistry is getting there and their trust in him is improving.
"And it's translating," Trier said.
And he's looking good in the process.
"You were probably asking, 'was he as good as advertised or maybe this isn't going to work out with how Arizona plays and how he plays," Miller said, speaking as a critic. "(But) I think it's the furthest thing from the truth. We are teaching him and coaching him. He is incredibly coachable. He is one of the hardest working kids I've ever been around."
Adding to his all around play is his defense, much improved than when he arrived, Miller said. His offense is efficient.
"For such a young player in our program and you have seen a lot of great ones come through here, a performance in December (like that) will say a lot," Miller said. "He's going to do nothing but get better."
Trier said the same.
"Right now," he said, "I'm getting better but I'm far from where I'll be pretty soon."
Notable
Kadeem Allen
went down in the second half with about four minutes left with what Miller said was a sprained ankle. It's not clear when he'll return. And junior
Elliott Pitts
did not suit out because he is going through "personal issues" Miller said. He said it was not disciplinary.
Steve Rivera has covered the Arizona men's basketball team full-time since the 1991 season, filling in since 1988. He's the author of the Arizona Basketball Vault and "100 Things Arizona Fans Need to Know & Do Before They Die."