Arizona Cactus Classic ready to kick off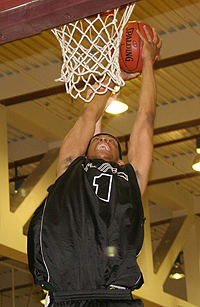 The first annual Arizona Cactus Classic has finally arrived. Tucson, Arizona has never had so many elite high school basketball players in town at the same time and this event looks to be one of the best AAU tournaments of the summer.
Considering that the event is being put on by GOAZCATS.com Publisher Jim Storey, it goes without saying that we'll have the tournament covered from beginning to end. Every night, look for recaps from not only this website but Rivals.com analyst Jerry Meyer, who will be helping cover the event.
Part of what is going to make this event so exciting is the fact that not only does it feature some of the elite talent in the country but also perhaps the nation's best AAU squad, the SoCal All-Stars.
While many people are already predicting SCA to win it all, several AAU coaches we've spoken with are aiming to knock the undefeated All-Stars off.
One of the teams with the talent to do just that are the Houston Hoops. According to Greg Wise, coach of the Hoops and father of future Wildcat Nic Wise, his team is ready for the challenge.
"I talked to them last night at practice about the competition that's going to be there," said Wise. "I told them that they have the opportunity to play a team that is undefeated and that they should have a chip on their shoulder.
"Everyone who is going to that tournament thinks that the rest of the teams are playing for second place.
"We also talked about the other teams we'll be playing. There are local teams that want nothing more than to beat us down there. We have to play every game tough. At the same time, we are ready and we're not coming down there to play for second place."
There's no doubt that SCA will get everyone's best shot. If anyone does give them their first loss of the year, it would definitely be a big deal for those who closely follow AAU basketball.
We'll kick off our Arizona Cactus Classic coverage with a preview of Friday night's games.
At 6:00pm, Total Package Red takes on Tucson's Sporting Chance on McKale Court 1. Keep an eye on Total Package Red 2008 power forward Clarence Trent, who is a top 2008 recruit for Arizona and guard Steven Gray, who has committed to Gonzaga.
Also at 6:00pm on McKale Court 3 will be Double Pump Elite vs. West Coast All-Stars. On Double Pump Elite, Arizona is recruiting 2008 guards Jerime Anderson and Jrue Holiday. West Coast All-Stars guard Quinton Watkins is committed to USC.
At 7:10pm, there are a number of players to watch. On SoCal Razorbacks, who will be playing at McKale Court 1, check out star 2007 guard Kamyron Brown, who is the cousin of Arizona assistant coach Miles Simon. Also on the team is 2007 UA recruit Drew Viney, one of the tournament's best shooters.
Arizona Stars, coached by former NBA star Eddie Johnson, play on McKale Court 2 and their top player is 2007 Cal commit Harper Kamp.
At 8:20pm, SoCal All-Stars take on Las Vegas Dogcatchers East on McKale Court 1. SCA features one of the nation's top few players in 2007 power forward Kevin Love, 2007 center Alex Jacobson, who is committed to Arizona, 2007 Duke commit Taylor King, 2007 USC commit Daniel Hackett, 2008 USC commit Malik Story, 2008 top-ranked point guard and big time Arizona recruit Brandon Jennings and 2007 UA recruit Darrington Hobson.
The Illinois Warriors, another one of the country's best AAU teams, play on McKale Court 2. Look out for 2007 DePaul commitment Manuel Cass and future Illinois power forward Bill Cole and 2007 power forward Brandon McGee.
On McKale Court 3 will be EBO/EA Sports, who feature future Arizona Wildcat Jamelle Horne. Also on EBO is 2008 Arizona recruit Jeff Withey, 2009 recruit Aaron Moore, 2007 star guard Tim Shelton and big time 2007 small forward Billy White.
At Bear Down Gym Court 1 will be TKO star sophomores Jason Pruitt, brother of USC guard Gabe Pruitt and 7-foot-2 Arie Allen.
The last games of the night start at 9:30pm. On Houston Hoops, who play on McKale Court 1, check out one of Arizona's top recruits in the past few classes in 2007 power forward Gary Johnson, along with 2007 recruits Mike Singletary and Isaiah Rusher, 2008 UA target Anthony Jones and 2009 guard Tommy Mason-Griffin.
McKale Court 2 features Pump N'Run Elite vs. San Diego Colts. On the Elite, look for two Arizona recruits in 2007 wing James Harden and 2008 point guard Larry Drew. Also on the team are Gonzaga commit Austin Daye and Cal commit Omondi Amoke. On San Diego Colts, 2007 wing Tyrone Shelley is one of the top players in his class.
Arizona commit Jerryd Bayless is unlikely to play for the Arizona Magic on McKale Court 3 but the team still features 2007 UA recruit Zane Johnson, 2007 Washington commit Isaiah Thomas and 2007 Connecticut commit Gavin Edwards.
On Bear Down Court 1 is 2008 UA recruit Troy Gillenwater of Belmont Shore. He'll be playing against 2008 UA recruits Matt Simpkins and Demar DeRozan of P-Miller Ballers, a team that also features Percy Miller, Jr. aka rapper "Lil Romeo" and is coached by Percy Miller, aka "Master P."
Watch for star 2008 UA recruit Luke Babbitt of Las Vegas Prospects on Bear Down Court 2. On Nike California Hoops, Arizona is going hard after a pair of 2009 twins in David and Travis Wear.
After games each day, make sure to check out GOAZCATS.com for all tournament recaps and notes.

Click
Here
to view this Link.